At our December PTSA meeting, a panel of students addressed the challenges that students currently face connecting with their peers.
The focus of the evening was to hear first-hand from students as they shared struggles and successes while navigating the current 'virtual life' we are all experiencing. They talked about how their circles of friends that they have regular contact with have shrunk, and most had not connected with any new friends this year, and opportunities to initiate contact with other students were very limited. One constant struggle expressed by both students and parents (via the live chat) was the lack of use of cameras during classes. The consensus was that leaving cameras turned off added to students feeling disconnected from peers and teachers. This was especially true for Freshman and the many students new to WSHS. All of the students wanted to see more of their classmates, but struggled with being the first one to turn on the camera because of peer pressure.
Some of the students also talked about feeling less comfortable reaching out to teachers because of the lack of informal contacts that the students would normally have at the beginning and end of in-person classes.
Students also talked about how important it was for their mental health to have some social interaction events to look forward to.
What is the PTSA doing?
We are helping to raise awareness of these issues and helping to organize resources and support. We are also trying to plan a social event to help build more connections between students! We are also looking into different applications that might help students interact on a more personal level, such as in a virtual cafeteria.
What can parents do to help our students?
(1) Encourage them to TURN ON THEIR CAMERAS!!! FCPS prohibits teachers from requiring students to turn on their cameras for a number of valid reasons, but voluntary use is fine. Students and parents can encourage that practice!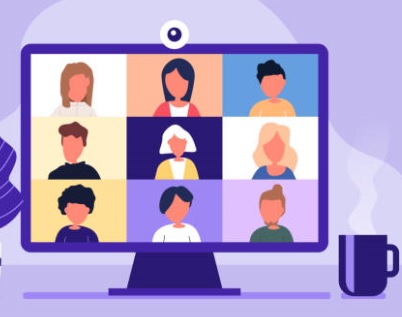 The PTSA has started a Lights, Cameras . . . Connections program to provide an incentive to students to turn on their cameras! Read more about it here.
Did you know that counselors report that if only 3-4 students turn on their cameras, the majority of the class also turns theirs on?
(2) Urge them to JOIN A WSHS CLUB– Info on the Student Life Activities Page: https://westspringfieldhs.fcps.edu
(3) Check out The Oracle, the student newspaper of WSHS. Learn about what other students are up to!
(4) Help connect with teachers: encourage your student to take advantage of teacher office hours; help your student work on developing relationships with teachers; help them draft an e-mail to a teacher.
(5) Volunteer — it's something your student can be in control of and meet new people. Check out the WSHS service learning page!
(6) Talk with your student. Help develop a plan for more connection together. Help your student come up with a reason to reach out to a friend that he or she hasn't connected with for a while.
(7) Check out the WSHS Spartan Events Calendar for events that might help your student connect with others!
New to WSHS?
Connect with Student Ambassadors — Ms. Biever – jmbiever@fcps.edu
Student still struggling? Reach out to your student's counselor
Follow WSHS Counselors on Instagram and Twitter @WSHS_Counselors
Connect with 'Sources of Strength' — Ms. Abrigo – rpabrigo@fcps.edu