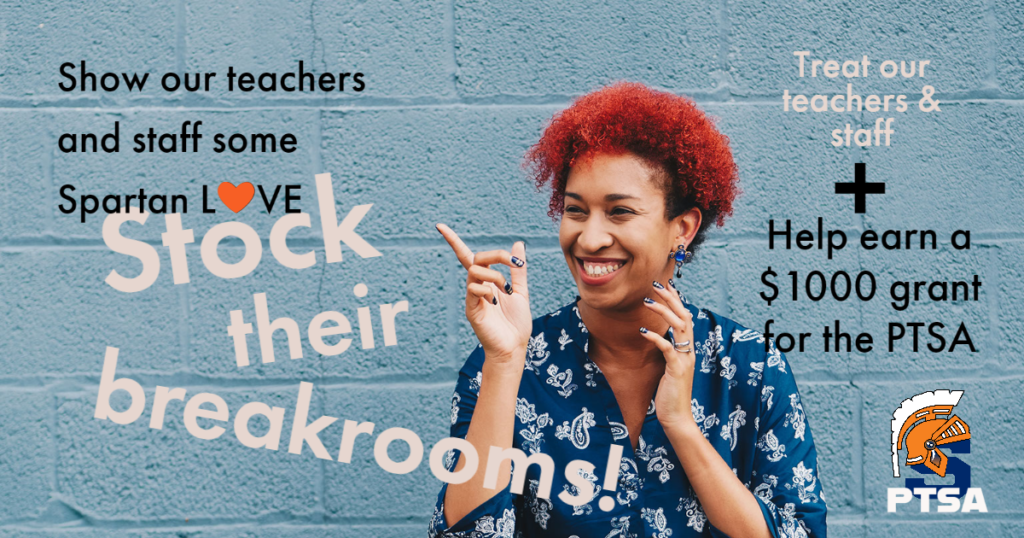 Help us show our teachers & staff how much we care AND earn a $1000 grant for Teacher Appreciation Week: Stock the Break Rooms!
One of our major PTSA goals this year is to 'Stock the Break Rooms!'; part of our teacher appreciation initiative.
You can help us reach our goal by signing up for our new givebacks program, where our over 25,000 local and national businesses will donate to our PTSA when you shop with them. And you'll get cashback too!
Givebacks will send us an extra $1000 if we can get 100 parents to participate in the next 3 weeks!
HERE'S HOW YOU CAN HELP!
Step 1 – Join givebacks! https://www.givebacks.com/join/7e1d24a5-46d2-4330-9a0f-e91615cab9c4
Step 2 – Add the givebacks browser extension if you didn't during signup by clicking here: https://chrome.google.com/webstore/detail/givebacks-genie/djidapogageiehhmihamgimggepbnojp
Step 3 – Shop online via the givebacks app. You'll need to activate the browser extension when it pops up for us to get credit.
Step 4 Help stock teacher & staff breakrooms by shopping from this list:
https://www.walmart.com/registry/ER/028ac518-0812-4f56-9bde-48702bfe1db2
Some items will ship directly to the school, while others are available for you to pick up in-store. We'll send dropoff times and locations soon for those who want to shop/pickup in-store.

It's fast, simple, and once you've joined, you can get cashback for yourself and for our PTA every time you shop at participating businesses! Everyone WINS!
Thank you for your support!